Home -- Classes -- Workshops & Slide Talks -- About the Artist -- Book
Galleries: Scarves / Shawls -- Quilts -- Improvisational Quilts -- Silk Paintings -- Silk Quilts
Fiber Art Supplies available from Joy-Lily
Silk Painting and Shibori Supplies
Silk Dyes
single 2-ounce bottles of Liquid Reactive dye concentrate in 8 colors as available $7.50:
red, yellow, green, turquoise, blue, brown, and black, yellow,
UnGutta
a cold wax resist for silk painting (jump down for details)
8 oz bottle (applicator bottle included) $9
16 oz.bottle (applicator bottle included) $16
32 ounce bottle (Teacher size! Applicator bottles sold separately) $30
2 ounce needle-nose applicator bottles$1.25 or $13/dozen
Silk Painting students using UnGutta at Gualala Art Center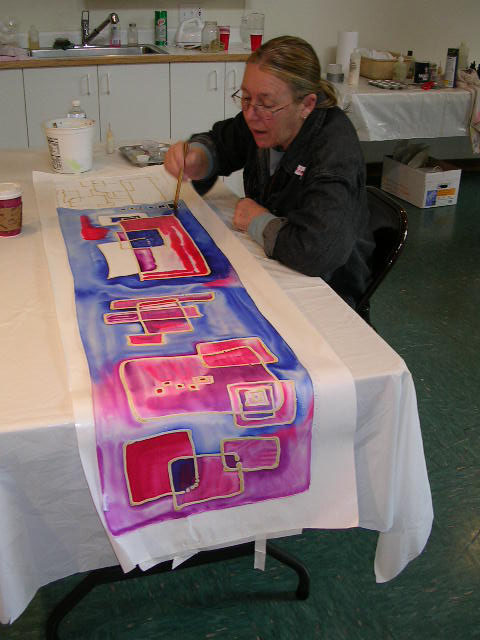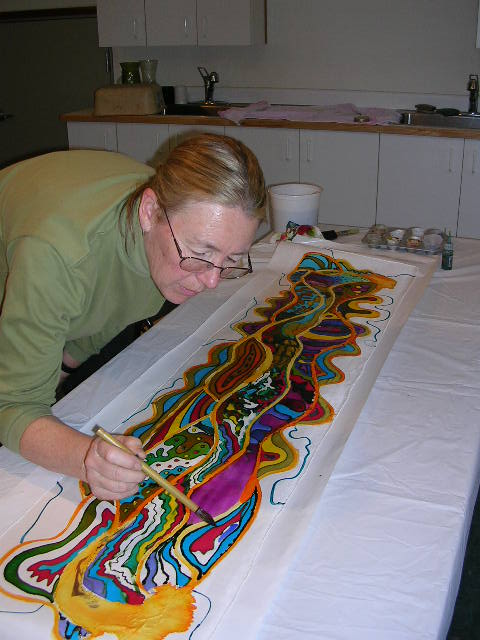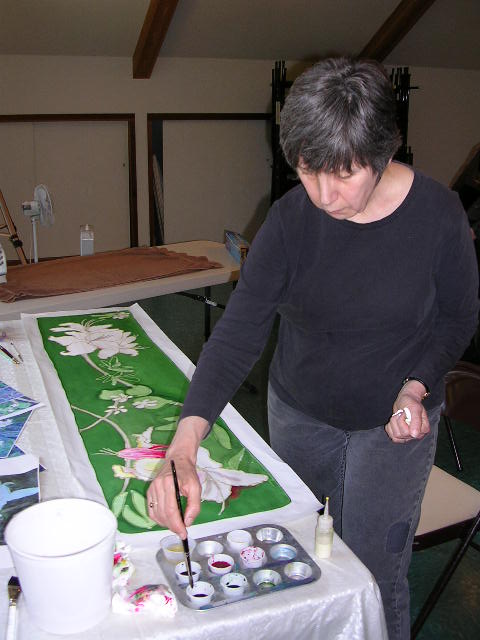 Waxing Eloquent about UnGutta
WHAT IS IT?
UnGutta is a textile resist material made of fine wax particles suspended in a creamy medium. The medium dissolves in hot water releasing the wax particles from the fabric. Dry cleaning is usually not needed. I have used it on cotton, rayon challis and especially silk: habotai, charmeuse and crepe de chine. It should work on any fiber where it can penetrate completely through to the back. It is non-toxic and does not erode when you paint washes over it as other water-soluble resists do. It also does not pick up dye color when it is dry and you paint over it. Using UnGutta is comparable to using hot wax as in batik, but it's easier to remove.
REMOVING THE RESIST
I recommend using a bucket or dishpan in the sink to rinse your fabric because the wax particles float. They will appear at the top of the container as small white particles and scum which will flood away with overflow of water. Use the hottest water you can to release the wax. If you rinse directly in the sink, you will have to pull your fabric up past the surface scum which can re-deposit some wax on the fabric.
APPLICATION
When the UnGutta is applied to cloth it looks white. When it dries it will turn a golden color.The heavier the application, the wider the line.The damper your environment the longer it will take for the UnGutta to dry fully. It works as a barrier on the cloth between colors when it is dry. In addition to squeezing a line with the needle nose applicator bottle, you can also apply UnGutta with stiff bristle brushes. Be sure to rinse the brushes in hot water promptly after use to remove the wax. It is also possible to do crude stamping and probably stenciling to apply the resist.
Whatever color of fabric or art is under the UnGutta will be preserved when you paint further. This can be done in several layers, in the manner of batik. If you paint directly over large waxed areas, color will bead up on top of the wax. If not wiped away it will penetrate the wax for a dew-like effect. I find that the minimum effective size of a barrier line is wider than working with solvent guttas, so I work in larger scale designs where the detail size increases accordingly. UnGutta works fine in Air Pens.
SOLUTION
UnGutta varies in moisture content from heavy cream to sour cream consistency. If it is too thin and runny for your fabric, china silk for example, spread some UnGutta on a plate and allow some moisture to evaporate from it. You may also thicken it with sodium alginate gel. Add about 10% gel. Gel does slow drying. To thin the UnGutta for heavier fabrics like rayon or cotton add water or liquid dye as a colorant.
COLORING THE UNGUTTA
Be sure to use dyes according to manufacturers' instructions for setting the colors. For example, liquid reactive dye requires baking soda as a catalyst, so you need to add a tiny bit of it along with the undiluted liquid dye concentrate, to the resist. Colors will appear darker then the final result, because of the gold tint when the UnGutta dries.
Everybody wants a good black gutta. I have found that the blacks in fiber reactive dyes are too fugitive ( they run away when steamed) and require too much dye to be added to UnGutta; the mix becomes too thin for use with the bottle. News of any successes in creating black UnGutta would be appreciated.
STORAGE
Keep UnGutta and waxed work away from excessive heat, cold and sunlight. If it freezes, UnGutta will not be usable. After all painting is finished it is ok to dry your work with heat or sun, because the wax lines no longer affect the dyes.Sometimes UnGutta lines of a stored, unfinished painting will melt, making an invisible barrier which does not allow new dye all the way to the edges of the UnGutta.
Add a drop or two of undiluted liquid detergent or Synthrapol directly to your dye before you paint it on. This will dissolve the problem.
STEAMING
Art using UnGutta should be steamed between layers of paper rather than muslin, because the wax will melt and transfer onto the paper, which is disposable. I always use newspapers and I have never had a problem (as I did with solvent gutta) with ink from them transferring to my art. I use 20 minute steaming with Procion Liquid Reactive dyes. Other artists using different dyes that need longer steaming ( 4 -5 hours) get complete removal of wax into the blank newsprint wrapped around the work. When chemical set, the UnGutta was partially released from the fabric by the chemicals. The one time I tried this it did not seem to affect the art adversely. If you try this please let me know what happens.
UnGutta is a work-in-progress. Your ideas and comments are appreciated and will be posted here. Please send me your questions and answers and comments to UnGutta@joy-lily.com